Spread Hope with Comics - A Birthday Project by Jerald Uy
Spread Hope with Comics - A Birthday Project by Jerald Uy
Oct 14
Hero is a term thrown flippantly in comic books. But what if you are given a chance to become one? Would you grab it?
Comic book enthusiast Jerald Uy has launched a comic book drive for children living with chronic illness confined in the National Children's Hospital in Quezon City. A birthday project, he aims to bring the same magic "Free Comic Book Day" casts on kids every May to the hospital rooms, giving children limited by their medical condition an escape from the trauma of sickness and an inspiration to dream and most importantly, hope that everything works out in the end.
Donors of at least 10 single issues or 5 trade paperbacks will be entered into a raffle to win artwork from 13 illustrators in local and international comics industries namely Jether Amar, Andrew Villar, Allen Geneta, Jomar Bulda, Peejay Catacutan, Heubert Khan Michael, Jethro Morales, Rustico Limosinero, Bernce Llamo, Robert Magnuson, Nixon Na, Kim Jacinto and Dexter Soy.
Both old and new comics will be accepted as long as these are child-friendly and dust-free.
Meet-ups are set on weeknights, 6 pm in Glorietta and on October 12, Saturday, 11:30 am - 12:30 pm in Alabang Town Center and 4:30 - 6:30 pm in Robinsons Galleria.
Here is a good way to clear space for new comics and spread hope to chidren. Contact Jerald through his Facebook page www.facebook.com/JeraldUyCreative or email him at [email protected] to join the comic book drive.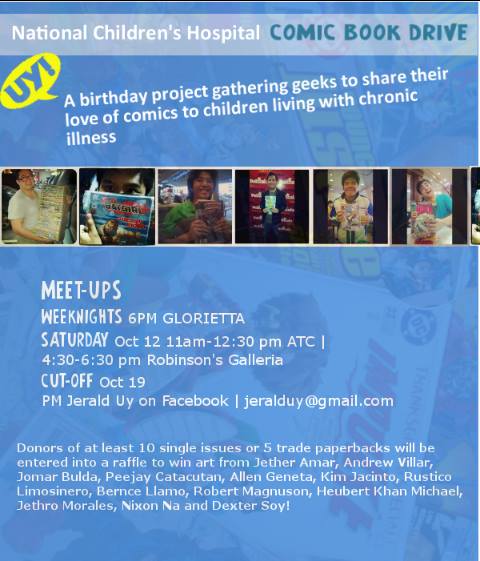 In case you'd miss the meet-ups for the #comicbookdrive, you can leave them at these comic book stores/attendants that/who are very considerate to help out XD
Comic Odyssey-Robinsons Galleria
Basement 1 (Ms. Lynn)
Druid's Keep-The Fort Strip
3rd Flr (Kuya Edward)
Castle Geek/Neutral Grounds Glorietta 2
3rd Flr (Ate Yaci)
Donation cut-off is on Oct. 19.