Life-Sized Stormtrooper Cake
Jan 17
Yes, you read the title right. That, my friend, is not a Stormtrooper cosplayer but a CAKE! The amazing team of OakleafCakes.com came up with this fantastic life-sized Stormtrooper pastry that stands 6 feet 4 inches. Their blog tells us this was made for the Arisia Sci-Fi Conventio in Boston, MA. Go to their link to see more images to get an idea how they managed to pull this off!...
Sanduguan #10 Comics Review
Jan 10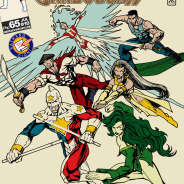 It's been a while since I last read Sanduguan comics and its always a pleasure to hop back. Recently, Kalayaan creator Gio Paredes said that author and illustrator Gener Pedriña is "really pouring it on" with Sanduguan #10. I couldn't help but agree. If you are someone who loves slam-bang action, you'll find it in this title. You'll literally see several pages...