Panels and Pages #7 | A Hazel Manzano Interview
Panels and Pages #7 | A Hazel Manzano Interview
Jan 29
The idea of doing comics strips about call centers might seem like a natural one for Hazel. Besides, she has always loved drawing and creating comics… plus she works at a call center herself!
However, the result was nothing short of brilliant! The comic strips started becoming popular not only to her fellow call center agents but also got to find its way on the pages of Manila Bulletin.
Boys and girls, lets meet Hazel Manzano as she answers a few questions about the past, present and future of Callwork comics.
Mark Rosario (MR): Hi, Hazel. I recently visited your blog and saw old comics pages you did when you were a kid. They looked fun! Haha! What age did you exactly start to draw and what motivated you to keep going through the years?
Hazel Manzano (HM): I started drawing when I was very young. It was even before I went to school. My first comic was done when I was 5. I didn't scan it 'coz may nakahubad. Hahaha. Naliligo na scene. At the age of 7, I was selling my drawings for 1 peso. I was published at the age of 16 in Philippine Junior Inquirer.
There's no need to motivate myself in drawing but in doing comic strips, my influences are Baltic and Co., Pupung and Beerkada. I also loved reading my mom's comics like Dennis the Menace, Harvey like Casper, Spooky, Hot Stuff, Lotta, Audrey etc. I also love Disney and DC.
MR: Now let's talk about Callwork. When did you start making these Callwork strips? What were the initial reactions to it?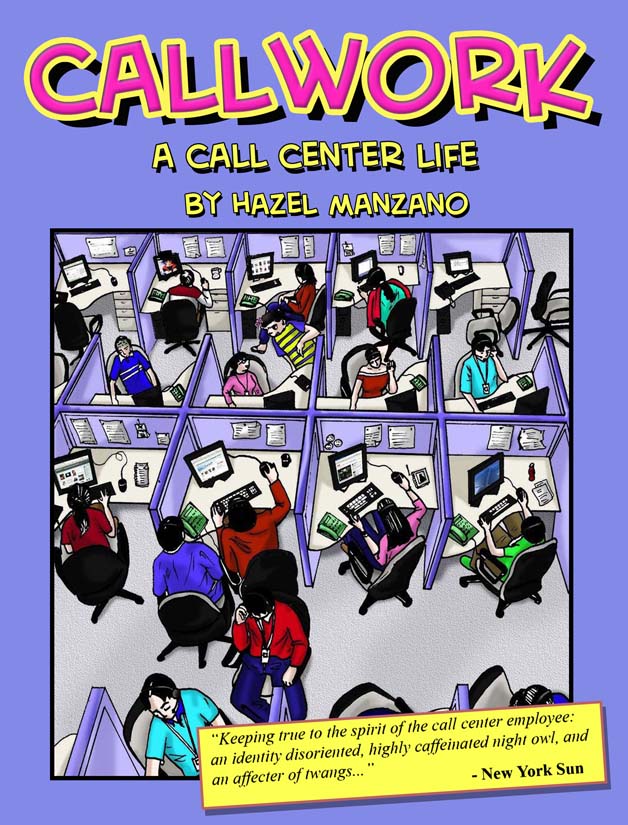 HM: There is something about the way how the company and managers treat their people and something about the people treating their job. There were too many issues - people managers were still young and doesn't know how to manage well, agents were also young and it's either they aren't that serious with their job or cannot cope up with the stress. Basically, there aren't much process yet implemented in this young organization/ industry.
There were so many new jokes and issues that I decided to collect my experiences since 2002. I executed this plan to be a comic strip in 2006. Hindi pa nga Callwork ang title e. "Talakatologist" pa ang title niya dati which was published in our company magazine. Then I realized na masyadong mahaba so naisip ko gawing "Callwork" named after "After Call Work" or ACW. ACW is the button you press if you want to avoid the next call coming in in your phone. If you are using callwork, it means that nagpe-petiks ka or mahina kang agent at di ka pa tapos mag-notes sa previous call.
I was then an Operations Supervisor when I made Callwork. So unang nakabasa is mga agents ko at natawa sila kasi mga experiences namin yun as a team. Then I let my sister read it tapos di niya nagets. Yun yung time na naisipan kong i-level up na yung humor writing/story telling skills ko kasi hindi natatawa yung kapatid at mom ko. I said "dapat mga outsiders magegets din 'tong mga jokes sa call center."
After I revised almost everything, (yeah most of the first few strips of Callwork didn't appear in the book except for the training scenes.) I decided to publish it in my blog. I think mga December 2006 yata yun when I mailed the samples to Manila Bulletin then February 11, 2007 lumabas na ang Callwork sa Bulletin. November 2008 ko ni-launch yung book.
MR: The book's been out for more than a year now. What has changed since those early days of the strip? And you're aiming for a wider distribution now, right? That's really cool.
HM: Yup, one year. Within that year, I was lost. Di ko na naasikaso yung distribution, marketing and collections 'coz of my job in the call center. Most of the time, I depend on other people to sell, deliver, or distribute the books to other centers. To date, Callwork: A Call Center Life already sold 2000 copies. I still have around 1000 books here at home and I decided to use these remaining stocks for provincial areas. Marami din kasing call centers sa Pampanga, Baguio, Cebu, Batangas etc. and I think I really need to reach them out these coming months. I think I still have a lot of opportunities kasi ang target ng government this year is 900,000 call center employees and I want them to be aware na merong Callwork.
Many changed in terms of the drawing style. I always tell myself kung kaya i-improve yung art, go! Kung kaya lang. Di ko pinipilit mag-practice kasi busy din sa work. Pero ang goal ko kasi ma-perfect ang human figure and background. In terms of story telling, medyo kampante na ako dun.
I have some good and bad reviews. It doesn't matter. When I made Callwork, alam ko maraming matatamaan dito. When I write a story, I just wanted to get it out of my chest. I'm the type of person who doesn't care what other people will think.
MR: I'm aware you won as the Best cartoonist for the Komikon Awards last year. What does that mean to you? Has that affected how you approached the newer strips this time?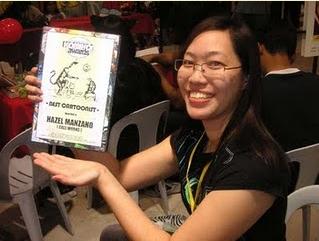 HM: It was really a surprise kasi dalawa lang naman ang naglalaban talaga before sa Komikon awards – si Pol and Manix. Tapos eto ako, sobrang newbie. It means a lot to me. It also means I should go on and make more comics. Hahaha.
I think ang kagandahan nitong Callwork is that kahit hindi komiks reader, napapabasa. Marami niyan. Nakakatuwa kasi may mga umamin sakin na they hate reading. They don't read books at all. Napabasa lang daw sila sa Callwork. Hahaha
MR: You're working on Callwork book 2 already. When does this come out and what can readers expect from you this time around?
HM: Yes, Callwork book 2 will come out this April 17 Summer Komikon. I already finished the lay out of the book. Although may mga pending comics pa na di nagagawa for this book. Cover is almost done, coloring na lang and fonts.
MR: I'm excited! Now tell our blog readers where they can find you online and how they can either pick up or order a copy of Callwork.

HM: Callwork: A Call Center Life is available in selected National Bookstores, Powerbooks and Comic Odyssey Galleria branch. You can also follow me at http://twitter.com/callwork or email me at [email protected].
MR: Thanks much for the time, Hazel. More power to you and Callwork!