The Colour and the Shape
The Colour and the Shape
Mar 27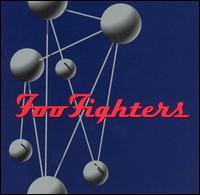 This album was released way back my high school days which was actually more than ten years ago (1997, to be exact).

This is one of those records that manages to make me feel young and old at the same time. For that and many other reasons, I think this is one album that just won't go away – at least for me.
Dave Grohl's skill in writing good songs is unquestionable. More than being an amazing multi-instrumentalist that he is, Dave manages to write songs with lyrics that brilliantly fits the feel of the music.
Tracks that stand out for me are the angst-ridden-yet-melodic "Monkey Wrench" (I love the lyric that asks "what do you do when all your enemies are friends?"), the catchy "My Hero" ( with reassuring lyrics that say "There goes my hero / He's ordinary"), the emotional "Everlong" (David Letterman's fave, too), the sweet ballad "Walking After You" and of course, the album closer "New Way Home" (of all the songs in the album, this is the one I'd like to see the band perform live).
I just love this album. I also enjoy their new songs but for me, this album is their best, so far. I think I'll still listen to this album for the next following years, "yea, and perhaps until the day I die" as Ammon once said (see Alma 17:23).