Posted by Markus on Jun 30th, 2008 |
6 responses
Gilbert Monsanto's covers doesn't just grab your attention – it holds your attention. In fact, it blows you away!

Rambol # 2 really did that for me. Besides, what kind of Pinoy komiks fan could resist a cover with Biotrog going head-to-head against X-Trooper anyway? We didn't get any Infinity-Sonic, hero-versus-hero crossovers even during Pinoy komiks heyday, did we?
Biotrog against X-Trooper was really quite a match. The battle just came to a halt when Cybernaut stopped X-Trooper from using his weapon and blowing Biotrog to pieces. Initially, I thought "who won?" but then again, considering that Biotrog withstood each of X-Trooper's attacks, I'm pretty sure he can withstand that one, too. Yes, X-Trooper may have the weapons but I think Biotrog's way faster and stronger. Besides, the cover is already a giveaway about who won, right?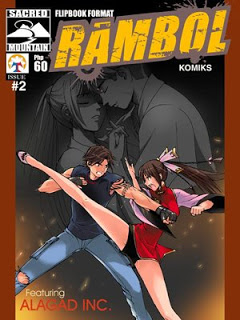 Alagad Inc this time around was a flashback issue of sorts. If issue #1 was all about showing the main character's skills, this issue was more about showing details about the lives they live - particularly Boy and Bea.
This issue tackles how Boy became an agent for Alagad Inc and the reasons why he left the
group. Yes, the story was
good. Plus, its refreshing to read a comic book with guest artist Luisito Antonio's illustrations.
I've always been a fan of his works (Zodiac Warriors, Bulalakaw, and Judge Red among many others) and his artworks for this issue simply prove
that he's really a good and versatile artist. It's even obvious that he had fun doing these pages for Rambol. You can just feel it as you look at his works.
I guess I just got a little confused with what I got here. You see, this issue was a flashback issue so it was supposed to turn the hands of time – backward, not forward.

I think Antonio's illustrations of Boy really looked older than the one in the present timeline. Boy had a different hair, looked taller, was kinda more muscular and even had a goatee. While I understand that different artists draw the same characters differently, I think it shouldn't at least get confusing for any of us, readers, to figure out the flow when we get flashbacks like this. Honestly - I had to turn pages several times when I got to page 9 just to check if I was still reading the same story.
Despite that, I find Rambol #2 as a satisfying comic book to read. If you think Monsanto worked hard on Rambol #1, I can assure you that he worked harder for issue #2. He made up for his lapses this time around and proved that he is really the master of his craft.
And by the way, I think Rambol komiks wasn't named that way without a reason. Every issue is so action-packed yet so intriguing that, like good comic books do, it leaves you wanting for more and excited for the next issue.
I really can't wait to see Cybernaut in action. I'd also like to know who that "another hero" would be. It's also exciting to find out how would the reality TV concept turn out.
Any thumbs up for this one, too? Yes, of course - just higher than before.
Related Posts
Leave a Reply