Posted by Markus on Jun 16th, 2008 |
4 responses
First and foremost, Sacred Mountain's Rambol komiks was sized smaller than the typical comic book. This was also my first time to encounter a flipbook format meaning this one has two covers and two stories - namely Metropolitan and Alagad Inc. Since this this the first issue, both stories simply introduces (or, in Metropolitan's case, reintroduces) the main characters. Gilbert Monsanto does the introductions very well that one can't help but go "whoa!" each time a new character comes into the picture.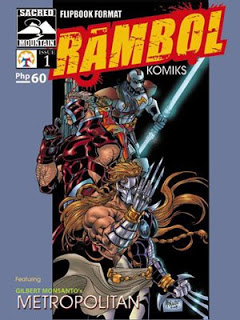 Metropolitan's cover was really cool. I've seen that several times at the web already but I honestly didn't notice Robie until I had the issue in my hand. As I read, I discovered that most characters have been redesigned and upgraded. Izzy and Robie grew up, the Biotrog here is actually the son of the original one we knew in Kick Fighter (see pages 11 & 12), while X-Trooper had a different costume and looked a bit older (page 14). Of all the characters though, Biolante was the one I didn't recognize the most. He looked really cold and, well, really different.
Midguard, on the other hand, died really early on. But of course, I am expecting a resurrection and a costume upgrade some time soon (I doubt Monsanto will kill a character close to his heart just like that). I'm just kinda disappointed that Kampeon has become a villain here because he has always been a personal favorite. Maybe he's just hypnotized or brainwashed or something. I don't know. I'm excited to find that out in future issues.
For me, Metropolitan #1 really proves that Monsanto isn't merely a great illustrator but a superb writer, as well. Each of Metropolitan's 22 pages is so action-packed that it doesn't have any spaces for dead-air moments. Monsanto clearly has the ability to take anyone to an adventure so wild that one can't help but ask "what's next?" Everything is really unpredictable - unpredictable in a good way. For example, seeing X-Trooper blast Biolante would make anyone expect that he was there to rescue Biotrog. but then again, that is definitely not the case as we see on the last page.
For the things-to-improve section, I guess some artwork on some pages looked rushed. I don't know. Maybe Monsanto was trying to beat deadlines and all but it looked obvious that pages 16 and 17, for example, didn't get as much attention as pages 7, 9, 20 & 21.
The other story, Alagad Inc, was actually a Manga-inspired collaboration between Gilbert Monsanto (writer) and Kriss Sison (artist). The cover looks like we've got a team out of King of Fighters here - and I mean that as a compliment.
Anyway, the plot is interesting. It's about a group of agents who need to settle their differences and face the challenge of the Gods and save the world from sure destruction. each of the four heroes were ordinary-looking characters with ordinary-sounding names. Furthermore, each of them looked distinct from one another but I guess I found something they had in common - speed and strength. Boy takes down a big American guy in less than 5 seconds, Bea kicks a huge soldier without the soldier even noticing her, and Haji uses his fists to knock a Tikbalang down. Diego didn't show his skills and abilities in this issue just yet but let's wait when he gets his turn on future issues.
Speaking of the Tikbalang (a half-man, half-horse creature), well I personally have never been interested with stories that deal with it. but somehow, Sison's artwork really changed my mind. He illustrated the Tikbalang so well that i decided to stick around. Needless to say, I wasn't disappointed for doing that.
The night vision goggles scene (page 19) was an intelligent concept, I think. It shows one of the advantages of the medium of comics compared with film and television such as doing a narration during a very suspenseful part of the story. I think that idea was really brilliant. Monsanto is a real genius when it comes to story-telling and thankfully, Sison's illustrations enhances the story even more.
Admittedly, this is my first time to come across Sison's works. He really did great in this issue. Aside from being meticulously-detailed in his drawings (I liked the way the villains looked), I think his strength lies in his capacity to convey impact. You'd feel that his characters and objects are really moving because of the way he does the backgrounds (see panel 3 of page 5 for a good example of that).
I really enjoyed Rambol #1. I'm sure new and old readers alike will love this issue, too. I just hope the next issues will be in full colors. Seeing the first few pages in colors really makes me wish we'd have the entire thing fully-colored next time around. I bet that would add impact to the stories and would increase the book's appeal even more.
All in all, I'll rate Rambol #1 as two thumbs up - way, way up!
Related Posts
Leave a Reply