Amazing Spider-Man #600 Highlights
Amazing Spider-Man #600 Highlights
Nov 05
Amazing Spider-Man #600.
Okay. This is an old issue, yes it is. Not old as in Golden Age or what but not entirely new so you might not see it in the stores anymore. But I love the issue, I'm still reading it and thought it should be a good blog entry - I hope. Haha!
First, this issue is thicker than usual. Second, it comes with different covers. Being a Kingdom Come fan, I bought the one with the Alex Ross cover. The other covers were also cool but THIS was the most awesome, for me. Don't you just love the cinematic feel of that? Seeing Spidey tangled up in all those mechanical tentacles is just something.
Now down to the issue. Lemme say I love how author Dan Slott writes those Spider-Man and Human Torch lines. He seems to be very comfortable using the two. There  were too many funny scenes as they always tried to exchange wacky banters all the time. Allow me to repeat the last three words there - ALL THE TIME.
Here's one..
And oh! Spidey also has lots of guests for issue 600. So with Human Torch there, you could be sure the rest of the Fantastic Four won't be too far away.
Plus we've got the Avengers!
And the man without fear - Daredevil, of course, who else?
Yep, it was John Romita Jr. who handled the interior artworks. I just love the guy's artstyle. Aside from the main story - which is a very long one, by the way - there are also a few short stories here. Very interesting ones. I liked the one Stan Lee wrote. He did a great job summarizing Spider-Man's entire history (well, almost entirely, I should say) in just 12 pages. Spidey talks with a shrink (pictured below) and this short tale just shows how brilliant Lee really is. There really shouldn't be any doubts about that.
And yeah the Spider Mobile also makes a brief appearance. Hahah! I still have the toy on my desk, I'll show you guys next time if I get the chance.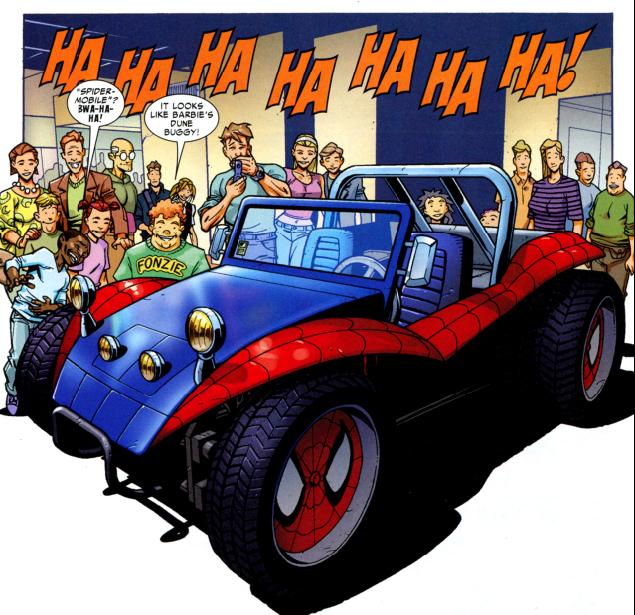 If you haven't been reading Amazing Spider-Man for some time now, I assure you this is a good time to pick up the book again.This one's really loaded with a lot of good stuff - Doc Ock, MJ, funny wedding scene lines from J. Jonah Jameson - so better check it out.
Related posts: