Posted by Mark Rosario on Aug 18th, 2009 |
2 responses
Recently finished reading Ultimate Comics Spider-Man #1. As expected, it's a quick read - and a fun one at that. I'm a sucker for all-ages titles so it didn't take long to figure out whether to pick this one or not, although this wasn't really an all-ages book since the tag says its Rated T haha! Anyway, the big question for me was left unanswered - why doesn't the word "Comics" appear on the cover if this is really Ultimate "Comics" Spider-Man?… Hhmm… Any bright explanations, Marvel?
As first issues usually do, this issue tries to set up the stage by giving us the main characters one by one. Writer Brian Michael Bendis and artist David Lafuente both does a good job at it. Storywise, I just love Bendis! That guy's a genius. He completely won me over for page 1 alone. I think that's the highlight of this issue for me. You can't ask for a better introduction for Peter Parker than this, believe me. Even after reading the book more than once, I still can't stop chuckling each time I get to the punch line haha!
With regards to the art department, Marvel really wasn't kidding when they said "You have never seen a Spider-Man like this before." Lafuente's illustrations are visibly Manga-influenced. Also, he draws Peter Parker sporting a longer hair than what we're used to. Some may not like it but for me, that's a nice touch to make him look more fit for our times. Besides he's just 16 in this story and how would you expect some (okay, most) teens to look like these days?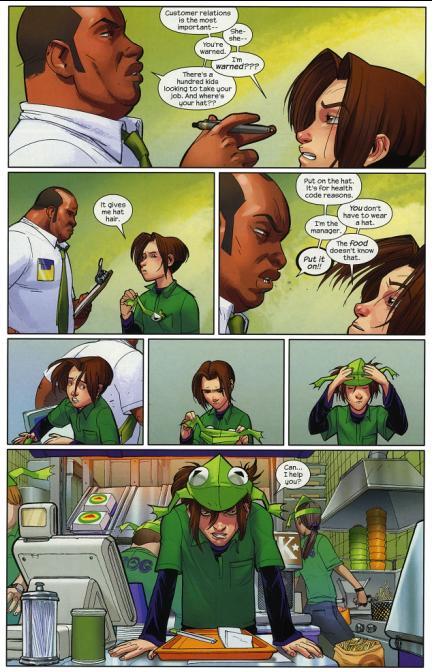 Taking a good glance at the cover could get you some ideas about what to expect for this and for the next issues. MJ Watson's here (she looks a bit nerdy) and so is Gwen Stacy and Aunt May. Johnny Storm (yep, that Human Torch guy) also pops out near the end but doesn't tell us much about what role he'll play in here. There's also Kingpin and Mysterio plus a hooded guy who beats the bad guys at a Convenience Store robbery-attempt. And while he doesn't appear in this issue yet, the wrap-around cover gives a hint that sooner or later in the series, Iceman would also show up so that should be, uhm, cool. No pun intended. Maybe. Haha!
All in all, I'm glad I gave Ultimate Comics Spider-Man #1 a shot. It's really nice to get the feeling of "fun" when reading Spider-Man again since things have become a bit too grim and a bit too dark for him lately on his other books. I think I won't mind coming back for the subsequent issues. Way to go, Bendis and Lafuente for a superb comic book!
*All images belong to Marvel Comics.
Related Posts
Leave a Reply