Posted by Markus on Apr 14th, 2008 |
2 responses
I was just messing around the net one day and stumbled upon this site. I took the quiz and this is what i got: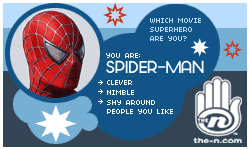 "You're Spider-Man. Like Peter Parker, you may have a geeky side, but once you're in the right outfit, you feel like you can do anything. You try to weave a protective web around your friends and family, but sometimes you still get lonely. It's probably because you're so focused on living up to your own expectations. Being a superhero isa big responsibility, but we hope you have more fun with it than Peter Parker does. That spidey-string must be great for craft projects, so why not build a cozy web in front of the TV? When you need a break from saving lives, you can curl up and watch Degrassi."
Now, I'm not really sure if I agree with what the result said. But hey! At least i got Spidey - my all-time favorite hero since childhood. I read and collected his comic books way back my elementary and high school days (Maybe the result was right about the "geeky side" part. What do you think? Heheh..).
Related Posts
Leave a Reply