Your Universe
Your Universe
Jan 27
Aside from his unquestionable capability to come up with melodic, chart-topping pop songs, one of the things I admire the most about Rico Blanco is how he writes lyrics that are simply relatable (yes, there is such a word! heheh…).
He's really not just an exceptional songwriter and a talented multi-instrumentalist who can comfortably transcend musical boundaries with great ease - from mushy power ballads, to anthemic grunge, to loop-laden electronica tracks, to everything else in between - but also a very prolific lyricist who can write lines that just hit home.
No matter how you are feeling, listening to "Your Universe", his latest record (his first solo record, at that), will really give you the feeling that this guy is really someone who knows how you feel. In fact, you'd feel he is writing the soundtracks of your life.
With that in mind, here goes some snippets of Rico Blanco's lyrics from the said album that I personally liked. Go listen to the record yourself and look for your own fave lines, too. I'm sure you will find a lot

SAY FOREVER
I'm at the central station
Without a destination baby its true, its true.
A million miles from nowhere
Tryin to get to somewhere baby with you, with you.
YOUR UNIVERSE
You hold me like I'm the one who's precious
I hate to break it to you but its just
The other way around
YUGTO
Ngunit hindi nila kayang baliin ang iyong loob
Ang pag-ibig na hawak mo'y hindi malulubog
AYUZ
At sa mali mo'y may liquid paper
Sa lovelife mong panis, Ctrl-alt-delete
Basta't kasama kita
Ayus na ayus na ayus na
Lahat ng hasel ay mawawala
HELPLESS
Day moves along
The symptoms only aggravate like

To stop a while
And listen to my story of
How much brighter you've made my life
OUTTA THIS
Only you can
Get me outta this
Only you can
Get me out of this mess that I'm in
I dunno where to begin
I'm waiting for you
Don't know what to do
START AGAIN
Is it too late to stop
This pain that I created
From eclipsin the million
>Precious things we shared
PARA HINDI KA MAWALA
Lately
Parang absent sa iyong mata'ng
Kislap na dati'y automatic
Kapag ako'y nakikita
Kapag ako ay nangulit
Baka ka lang ma irita
Pag nag makaawa
Baka ka ma suka
ANTUKIN
Kukupkupin nalang kita
Sorry wala ka nang magagawa
Mahalin mo nalang ako
Ng sobra sobra
Para patas naman tayo
Diba?
Long as we stand as one
Ano man ang ating makabangga
Nothing will ever break us
Wala talaga
As in wala
METROPOLIS
I'm beating in your heart
A little drum
A little song

Until we're in each other's arms again
But until then
I offer you a lullaby
To cross the miles
And kiss you into sleep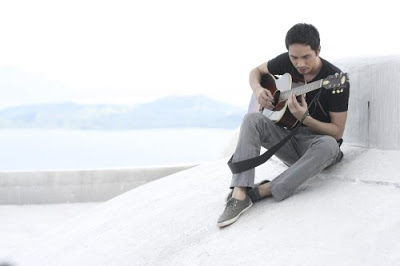 *Lyrics and photo courtesy of AMillionFlames.Multiply.com - Rico Blanco's officialMultiply account.
Related posts: