Posted by Markus on May 6th, 2008 |
no responses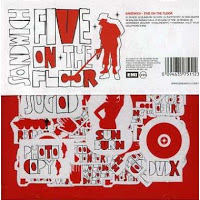 Anyone expecting a "Two Trick Pony" part 2 or a "Food For The Soul" sound-alike from this album could be disappointed. This is the band's first album without Marc Abaya and somehow, Abaya's departure (and the addition of guitarist Mong Alcaraz in the current line-up) gave the band a "fresh start" to experiment more both musically and lyrically. This album really doesn't sound anything like their previous works – and I mean that in a good way.
Since the beginning, Sandwich has always been a band that isn't scared to have fun and explore different genres of music. With this album, they successfully managed to incorporate Pinoy rock music and other influences without losing the signature Sandwich attitude. Musically, it is more experimental and playful. Lyrically, it is more straight forward
Just listen to "Sugod" for instance ("I-text mo na sina Shaun at Jopet/ Lagyan ng gel ang buhok na bagong gupit"). This song has one of the most identifiable guitar lines and has become a national rock anthem of sorts by now.
Other noteworthy tracks for me would be "DVDX" ("Lahat ng hinahanap mo/ Lahat ay nandito"), "Marikina" ("I just got back from the valley of chrome/ Where the sugar is free and the greyhounds roam/ I just got back from the valley of the sun/ Where the oranges and lemons dream of Pablo Juan"), "Kalendaryo" ( "Wag kang tutungo/ Nakakahawa ang lungkot mo/ Wag mag alala/ Babalik ako/ Andaming araw/ Andaming buwan/ Hindi masabi kung kailan"), "Sunburn" (" I need to get away from the city/ I need to get away from work/ I need to get away from the traffic/ I need to get away/ Got to get away/ I just wanna be on the beach"), and of course, "Walang Kadaladala" ("Nilumot na ang lupa/ Wala pa ring tiyak/ Napagod na ang luha/ Di na makaiyak/ Sana ay matauhan/ Pusong nakabitin/ Kalimutan mo na siya/ At ako ang pansinin).
All in all, I think Raimuind Marasigan does great in replacing Abaya in his front man duties. This is really one album that is fun to listen to and it is pretty obvious that the band members themselves enjoyed making this one. As Marasigan himself once declared, "songwriting with Sandwich is like playing with Lego."
Related Posts
Leave a Reply