Posted by Mark Rosario on Jul 1st, 2009 |
8 responses
There's always something about the concept of schools, students and superpowers that fascinates me. I can't exactly pinpoint what it is but I always feel they all go along pretty well. I guess its the same reason why I love the animated Spectacular Spider-Man, X-Men Evolution, our local Unstoppable comics and many, many others. This time, I've found something I could gladly add to that list, again in the form of an indie comic book - Unos Mundos by Wan Mañanita.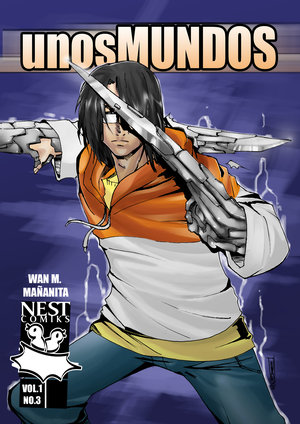 The story is about a group of college-age kids who are actually mutants and are "stuck in a web of underground organizations", in Mañanita's own words. What organizations, you ask?.. Well, we all yet have to find out in future issues, although this issue reveals a bit about one of those organizations called Orpans - a group secretly researching about paranormal beings, inter-dimensional warps, mutation and synthetic abilities.
Anyway, I was really impressed about the way some characters' powers were introduced. The scene on the CR, for example, where Julie accidentally discovers  her mutant abilities is so awesome my wishful thinking hopes to see it in an animated series, or better yet, in the big screen. Ulee's mind-reading skills, on the other hand, was also presented in an creative way although I wouldn't want to spoil the experience for anyone here. Just trust me and go check it out - it's on the early pages and I'm sure you'll find it cool as well.
Artwise, the book has the feel of a Manga and  its obvious that Mañanita draws much from that genre. However, what's interesting is that looking at the artworks closely makes one notice other influences too. This is a good example of crossing the boundaries of various art styles. Here's a test - just take a look at the cover. Does it look Manga to you? Nope. Does it look Western? Nope. Exactly my point!

I guess the only problem I had reading this issue was that I got a bit lost about who's-who (meaning who are the villains and the heroes among all these super-powered beings) and what's really happening in some pages. Naturally, I'd guess picking up Unos Mundos #1 and 2 (and future issues too) should clear the clouds at once.
All in all, I find this an enjoyable issue and would recommend it to anyone who shares my fondness with super-powered students. Way to go, Wan! More issues to come!
Related Posts
Leave a Reply