Posted by Mark Rosario on Jul 7th, 2009 |
8 responses
I think its not surprising that the uniquely-done cover of Pagbangon Mula Sa Abo: A Prelude to Mananabas generated some buzz on the DeviantArt community. I mean, come on! Who can ignore a painted cover with a cinematic feel like this, right? Definitely not me, man.
But yeah. As cliche as it may sound, its always true that you can't tell if a book is good by the cover alone. As good as this cover was, the real gem for me was the content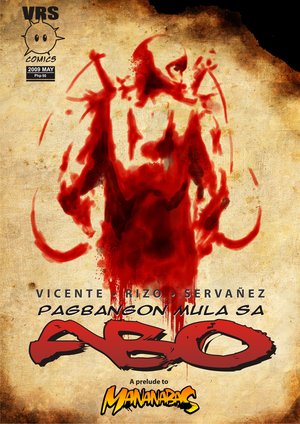 This comic book tells the tale of Mananabas, a farmer turned to a bolo and sickle-wielding warrior. Yes, our hero here doesn't have any superpowers at all and I think that's part of what makes this title stand out among its contemporaries out there. What's more, the story is set in the rural areas of Nueva Ecija and then its all about a "political-clan-based-revenge thingie, " as script writer Edz Rizo describes it.
I love the smooth pacing of the story. Nothing feels rushed in here. Also, the captions and balloons are  not too wordy either, making it very easy to read even in minutes (a quick lunch break could even be too long).
However, what's great here is that you'd end up being convinced with the main character's motives. You close the book having the feeling that you want to know more about him - his family background, why his enemies did what they did and what would be his next move after what happened.
With regards to the artwork, Mananabas creator Redge Vicente handles the interior pages in a way that can "wow" most readers. I cant help it but praise his impressively clean, Manga-influenced line art. Page 1 alone was awesome enough for me that I momentarily forgot that this was VRS Comics first output.
Yes, this may be the first comic book release of college buddies Redge, Edz and Jusef Servañez (layout artist and  letterer) but I think they really did a pretty top notch job here for an indie. Of course, there were missing periods, commas, exclamation points, and what-not's throughout the comics. Sure, there were some artworks that was toned too dark. But then again, I think I'd let them get away with it and see them improve next time around.
I'd really love to read more Mananabas issues in the future. No, make that in the near future.
Related Posts
Leave a Reply