The Avengers Are Everywhere (In The Philippines)
The Avengers Are Everywhere (In The Philippines)
May 01
My next blog entry after this would be the movie review but let me just confirm this for everybody - The Avengers fever has conquered the country!
Here are a few official Avengers movie merchandise available from the local stores.
From 7-11: As the poster says, every purchase of a 22-oz Gulp (or Slurpee) and an additional P15 gets you one Avengers Collector Card.  On a side note, its too bad Black Widow and Hawkeye had to share the same card. As if it wasn't enough that they don't have their own movies too haha!
From Petron: These Avengers tumblers get the award of being the most interesting. Even the most serious of collectors are raving at how nice and how detailed these tumblers are. In short, you bet you'll see this up on eBay soon enough.
At P60, they're also pretty cheap but the catch here is that you need to load up at least P1000 worth of fuel first.
From Jollibee: The "Bee" is looking to be the ultimate destination for all things Avengers as they have four different promo items for fans of the Earth's Mightiest Heroes.
First, they have this cool Jollibee ChickenJoy Avengers Bucket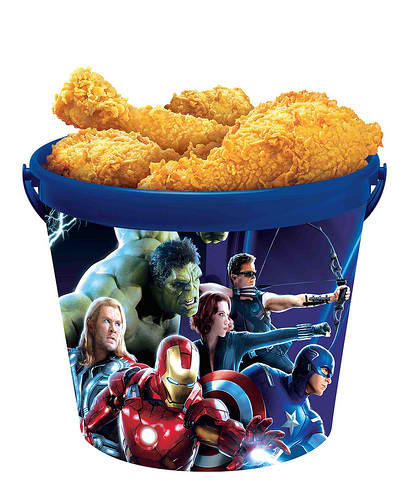 Then there's this Avengers Hero Mugs (which are available in black and blue).
From their Kids Meal, here's the Avengers Super Hero Showdown tumbler toys.
Along with that, Kids Meal also offers two comic books from Marvel. One is the reprinted Avengers: Earth's Mightiest Heroes and the other is a customized comic which features Jollibee itself.  I think this one's quite interesting as this marks the first time the famous fast food chain included comic books in their promos.
From ABS-CBN Publishing: Finally, the country's biggest Avengers fan tells us there's this Avengers Official Movie Special magazine from the said publishing company. According to the guy, this one contains "profiles, activities,a pull-out poster, and the tie-in prequel comic by Fred Van Lente and Ron Lim, which is only supposed to come out next month!" You can check this out from major bookstores or wherever ABS magazines are sold (including 7-11).
What about you? Any Avengers sightings? Tell us by leaving a comment below.