Panels and Pages #1 - An Interview with Gener Pedrina
Panels and Pages #1 - An Interview with Gener Pedrina
Apr 18
I've been enjoying reading or watching interviews recently, whether it's about comic book writers and artists or famous musicians when all of a sudden, the thought just hit me one day - "Hey, I have a blog! Why don't I feature and interview local comic creators there myself?"
The rest, as they say, is history. It's just cool that the first guy I approached for this automatically consented. If things go well, I might do this once a month or more often. Now I'm calling these blog entries as "Panels and Pages" just for the fun of it. Anyway, here goes my first attempt for an interview post with non-other than proud-to-be-Kapampangan comic book icon,
Gener Pedrina
-
creator of Sanduguan.
Mark Rosario (MR): First off, can you give us a li ttle background about what comics you have worked with in the past?
Gener Pedrina (GP): Aside from my personal stuff, I have worked with Psicom publishing for Fantasya and Basted comics, I drew "Kasaysayan: Minsan Isang Tag-Ulan" written by Alex Osias and "Noon At Kailanman" a love story with Kate Aton.. And I also have a story with Jason Banico called "Razor Lolita" for PROJECT: HERO by Quest Ventures. And I have just completed a series of spot drawings for "To Have and To Hold", a prose for The Buzz Magazine
MR: Any comics you are doing right now?
GP: I'm currently working on personal stuffs for the coming Summer Komikon. I already have 12 pages of rough pages for Bato: Agimat Warrior. And some for Sanduguan:Himagsikan 3.
MR:Among all the titles you have done, do you have any favorites? Why?
GP: Bato: Agimat Warrior is my fave among the titles I am working. It has a very special place in my heart. Bato was my very first published indie comics, together with my VM buddies way back.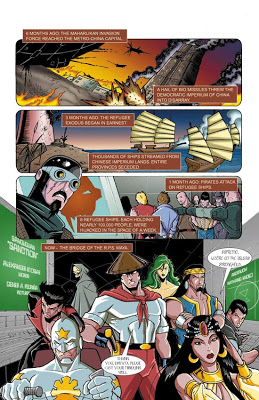 MR: I personally liked Sanduguan: Sanction. Can you tell us more about that? Any possibilities of a sequel for that?
GP: "Sanduguan: Sanction" was to be the first arc of the planned regular series of the Sandugo comics for Blue Shuffle, but sadly it was not meant to be. So I asked my writer, Alex Osias if I can upload it online so we can share the story we did. There is a script for a longer story, and maybe we will go back to it and release it on the current "Sanduguan" title I'm doing as another arc. Maybe after "Sanduguan: All Out War".
MR: With all those many characters, I often wonder about this - how did you conceptualize Sanduguan?
GP: After releasing Zodiac Force in '92, a two-issue mini which took years to finished, I made a reflection of what I really wanted to do in the comics world and how can I contribute well.
It was then that I realized that there are really no truly Pinoy characters out there - characters that on the first look are obviously Pinoy. So it was there that I went back to the drawing board and reviewed what I had.
Most of the Sanduguan characters that you see now are recycled concepts of really crappy heroes that I considered as throw away characters. Some are even fillers just to have your Pinoy characters. If you really look at them, they are really a back-to-basic approach to supers. It was there that I found out that I have these characters that are iconic in nature so retooling began.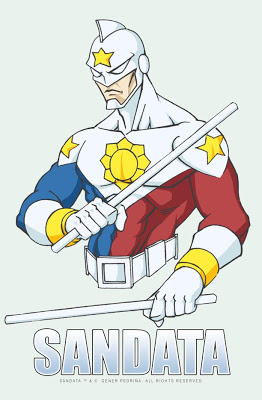 Sandata had different names back then which I found out were already taken so I took the most obvious in my eyes. Sandata's costume idea came from the back of an old one peso coin which had our official "coat of arms", loosely translated as "baluti ng sandatahan". He originally had a sword and shield but I changed them to bastons and made him a practitioner of the Kapampangan martial art called Sinawali.
Supremo was my homage to Andres Bonifacio and gave him the image of the common depiction of Pinoys. How Pinoy can you get? Ha ha ha.
Then I added Diwata who was called Luzviminda way back. She was to be an avatar of Inang Laya that's why she was also wearing the national colors on her first appearance. So to avoid the similarity with Sandata, I made her a Diwata, daughter of Mariang Sinukuan, the princess of Mount Arayat.
I then added Bernardo Karpio, the strongman of myth. But I changed his early costume to have that nice indio look.
Thus team Sandugo was born, taking their name from the ritual of the Katipunan brotherhood. And the rest of the other characters I made followed my simple rule of creating characters.
MR: Sanduguan just hit the 10 year mark recently. What could fans expect from you in the near future?
GP: I hope to have more books out there and I made a promise to finish story faster, he he he - and to be involved with most comic book activities out there. Hopefully, more Sanduguan merchandise.
MR: I've heard you have a knack for drawing while on the MRT. That sounds pretty cool.
GP: Having to struggle finding time to draw at home, I realized that I spend an hour commuting to work. So I have to make that time productive and started to bring notebooks, folded papers with me and started to draw. I was doing sketches, and more stuff, which I inked at home. Then came Sanduguan 0 - all concepts and lay-outs were done on the train.
And then I found out I was doing a lot of stuff already. There are times that I can't draw though, because the train is really full and sometimes you have seatmates who are really irritating.

MR: I saw you brought your son at Komikon 2008 and he acts as your cashier. I thought that was a cool thing to do. Do you always do that?
GP: He was there because I had to bribe him, ha ha ha. During my very first time to join the Komikon full time, I found out I have so many stuff to bring so I needed and hired help - and he was THAT help.

MR: Okay. Any message for our blog readers out there? Events, perhaps, where they can catch you or upcoming titles you will release soon?
GP: For previews, tips and whatever stuff that are coming will be announced on nerp.deviantart.com. If they have questions, I will try to answer it as honestly as I could!
MR: Thank you so much, Gener, for your time!
GP: NO! Thank You!!!

(*Images courtesy of Gener Pedrina)
Related posts: