Posted by Markus on Oct 29th, 2008 |
2 responses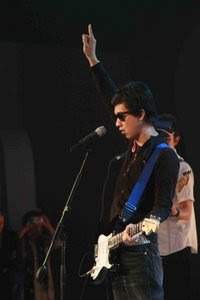 Yes, I know it has been days but it was just yesterday during my lunch break that I got to watch Francis Magalona's first performance after being diagnosed with leukemia. He performed side by side with his band, Hardware Syndrome and they jammed with Ely Buendia (and his band, Pupil) who had health issues himself just recently.
It was a very energetic and heart-warming performance. I admire these two survivors not only for their great contributions in the music industry but also because of their positive attitude despite the challenges they respectively face. They will forever have my respect for that alone.
Watch the video of the two, jamming Super Proxy by clicking this link.
(Photos grabbed from A Free Mind - Francis M's Multiply account.)
Related Posts
Leave a Reply