Posted by Markus on Nov 25th, 2008 |
no responses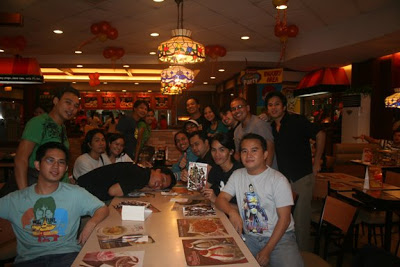 I'm still lost for words with how to describe the whole Komikon experience last Saturday (held at the UP Bahay ng Alumni). On top of that, I have tons of things to do at work. I guess this pic would be enough for now. I'll try to write something longer about the event next time. Plus, expect a alot of comics reviews from me within the next weeks and months (I went home with a heavy backpack filled with comic books, I tell you. Heheheh!).
Anyways, this picture was taken at our post-Komikon dinner-clebration of sorts at Shakey's Katipunan. Its quite a feeling being surrounded and being in the same team with a bunch of talented people.
Seated (L to R): Me, Myke Guisinga, Robin Rivero, RH Quilantang, Wan Mañanita, Redge Vicente, Levy Ramirez, Teardrop, Gio Paredes.
Standing (L to R): Erico, Gilbert Monsanto and his wife, Glenda, Omi Remalante, Myles Chua, Mike Ignacio, Hubert Michael Khan and Mark Willard Wong).

Related Posts
Leave a Reply