Posted by Markus on May 7th, 2009 |
2 responses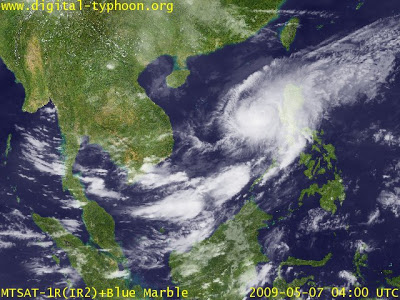 Summers nowadays can be very weird. I remember it was also around this time last year when Typhoon Cosme hit our city pretty hard. It wasn't a pleasant experience for most of us (some lost their homes, others had their properties severely damaged) but it was definitely a learning moment for all of us.

Now we've got Thypoon Emong this time. Its 1:30 p.m. as I wite this entry. We're already at Signal #3. The storm is moving very slow but it is becoming stronger. Its raining a little but the winds can really be a bit scary. Maybe I've become paranoid about it. I dont want to bid farewell to our roof the second time around. Heheh…
Hope you all have a safe day. Hope WE all have a safe day

*image courtesy of Typhoon2000.com
= = = = = = = = = = = = = = = = = = = = = = = = = = = = = = = = = =
Update:
It's already 08 May as I write this. The clock on the pc (yes, that one located on the lower-right part of the screen) says it's 7:54 a.m. We had some power interruption yesterday which lasted for several hours, til past 11 p.m. The winds were violent but it was already weakening by 9 p.m, I think. That's really something to be happy about since I don't know how much beating our little house could take.
Thankfully, we're safe. Prayers were answered, you bet.
Back to regular programming then!

Related Posts
Leave a Reply