Cosplayer Feature: The Amazing Spider-Dan
Cosplayer Feature: The Amazing Spider-Dan
May 06
After months and months of being offline, I am both proud and happy to announce that PlanetMarkus blog is officially back online!
Huge thanks to my admin for fixing everything and making sure that the blog is once again back to its feet. Thanks, thanks Kuya Boyet, for your technical know-how and for your patience with me! eheheh.. Also, thanks to artist friends and blog readers who have been inquiring non-stop about what happened to the blog. Thanks for your interest and support!
Now for my "first" entry, I wondered what I could come up with to make the come back really, really special and so I thought "HEY WHY NOT FEATURE SPIDER-DAN???"
I've been stalking him on Facebook recently and I'm seriously impressed not only for his passion on cosplaying but also for his love for Spider-Man - my all-time favorite character!

So without further adieu, let's swing together and let's all meet the man behind the mask!
Mark Rosario: Welcome to the PlanetMarkus blog, Dan. Thanks for agreeing to do this. Go introduce yourself to our blog readers!
Dan Geromo: Hi! My name is Dan Ramon P. Geromo. Friends call me Dan, but Super Friends call me SpiderDan. I work as a graphic artist for an e-commerce company in Makati. I am an artist but my art tends to focus on cosplay, photomanipulation, visual communication, graphic art, comics, performance and music.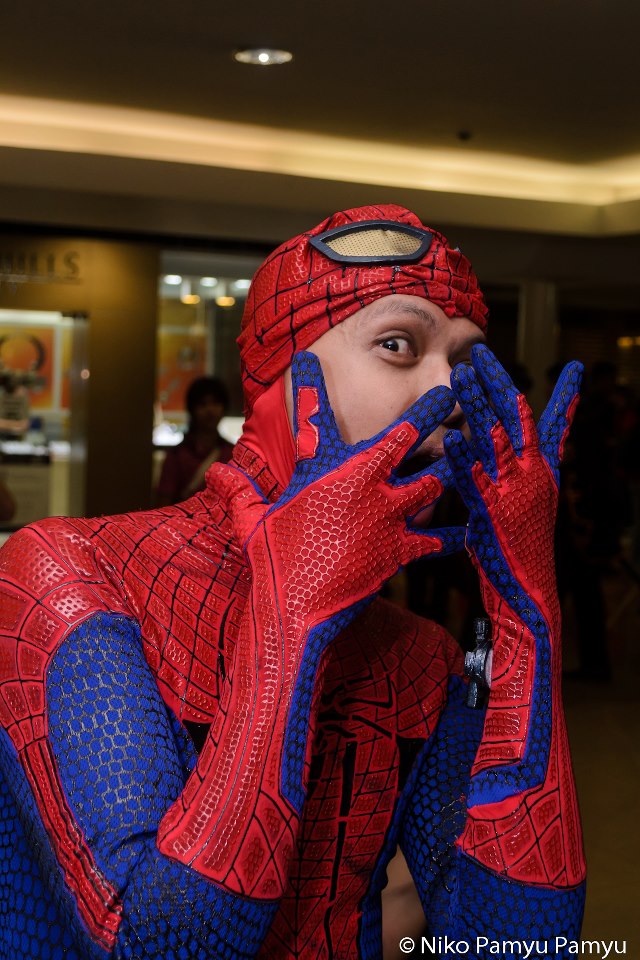 MR:  Now share with us your origin story. How did you discover cosplaying?
DG: The Spider-Man thing started in 1999. It was then a requirement for us first-year UP Fine Arts students to participate in that year's Lantern Parade, and our theme was "Icons". I decided to represent comic books by dressing up as one of the most well-known comics characters in the world. The experience proved to be quite addicting, thus, every chance I got, at every school event or program, or even everytime my band played on stage, I wore the Spidey suit.
When cosplay conventions started popping around the malls (probably around the mid-2000s), I looked into it and saw that this is the perfect venue for me to show my love for the character and display my Spidey skills.
MR:  I've read this on your Facebook wall but, for the sake of others, how many Spider-Man suits do you currently own?
DG: I went through a total of 9 suits in the past 13 years. Only two are active as of the moment. The old ones are worn out, and a few I altered into the Marvel Zombies Spider-man version.
MR:  How about that suit you wore last Summer Komikon? Just to dispel the myth - is that homemade or is that an official merchandise? It looks really movie-accurate, man!
DG: Thanks! That is a homemade replica of The Amazing Spider-Man movie suit, created by Monette and Wreidyl Cosplay, the husband and wife team of costume makers. They have been making movie-accurate costumes for quite sometime now and this is my third suit made by them. Needless to say, they're my current favorite costume makers.
MR: I think this also deserves asking - why Spider-Man?
DG: I love all superheroes in general. I totally love the concept and I don't care where company or what type of media the character belongs to. For me, Spider-Man represents the best of all superheroes - he personifies and combines the best traits of all of them. The tragic back-story, the use of gadgets and the creepy motif he got from Batman; the nerdy/weak alter ego, the media-based day job, the colors, the opposite confidence and strength while in the hero disguise he got from Superman, etcetera, etcetera. But then, Spidey's creators added more to the concept. They made the character way more relatable by making him a teenager, putting the target audience right in the shoes of the hero, and by designing his origin story more like a Tales From The Crypt or Twilight Zone-type of story, where the main guy learns a lesson in the end after a tragedy occurs because of his hubris, therein lies the genius of the Spidey concept. Everything we gain, everything we do or don't do, has consequences.
It doesn't hurt also that the overall costume design is very awesome and ahead of it's time, and by covering the entire face, Spidey can somehow able to cross racial boundaries, as if everyone can become Spidey.
MR:  How do you maintain a body like that? Do you follow a certain diet or something?
DG: I have always been very thin, but I've gained a few pounds lately. My middle area has become quite unflattering. Maybe I should start exercising now? I never had a sport and was never weight conscious. I kept hearing "Spider-Man payatot" over the years and was never affected by that. My "exercise" has always been dancing, but I was never a professional dancer.
MR: Aside from Spidey, who are the other characters you've already cosplayed in the past?
DG:  I did Plastic Man, Joker, Captain Planet, Michael Jackson, Daft Punk, Combatron, Professor X, Voldemort and many others.
MR: Okay question… Any upcoming events where your fans can find you? Plus how can fans get updates from you online?
I'm mostly active on Tumblr: http://spiderdangeromo.tumblr.com and Facebook: https://www.facebook.com/drgeromo.
I never announce when I am appearing, though. I want people to be surprised!
(All photos courtesy of Dan Geromo's Facebook account. Credits to the respective photographers.)