Cool Iron Man Costumes
Cool Iron Man Costumes
Nov 17
Been browsing the Coolest Homemade Costumes website to try and get some ideas for an upcoming party and found some really cool Iron Man costumes there.
No, I'm not planning to dress up as everyone's favorite Shell Head but I just had fun looking at these images and I thought I should share them with you. And besides, I already miss blogging so let this be my pathetic excuse for a new entry after a long absence! Hahah!
Now let's all enjoy this first image:
Quite an impressive take on the Mark V armor movie version, eh?.. What's more amazing about this is that this costume was made before the movie even came out, using only a few leaked images as a reference!.. Nah, I'm quite sure the guy also checked out some artworks from the comic books!
How about this one?
Also an awesome Iron Man armor, you bet! I actually love the metallic shine plus how the led lights up. If I'd have to nitpick on one thing though, I'm sure it would be that helmet he's holding.  I don't like it! Not to underestimate the guy's effort at all but I think it definitely needs more work. Here's how he looks like when he wears it:
The helmet's so ridiculous it kinda ruins the entire costume, wouldn't you say?
Here's another one:
As heavy as the Mark I armor looks like, this one has been described as "very lightweight and easy to move around in" by the guy who created it so that's really fun. Tony Stark himself would be so proud!
My top pick for the best Iron Man cosplay, however, wasn't something I found at the site. I actually got this a-bit-blurry-but-clear-enough picture from DeviantArt's DarkZappa..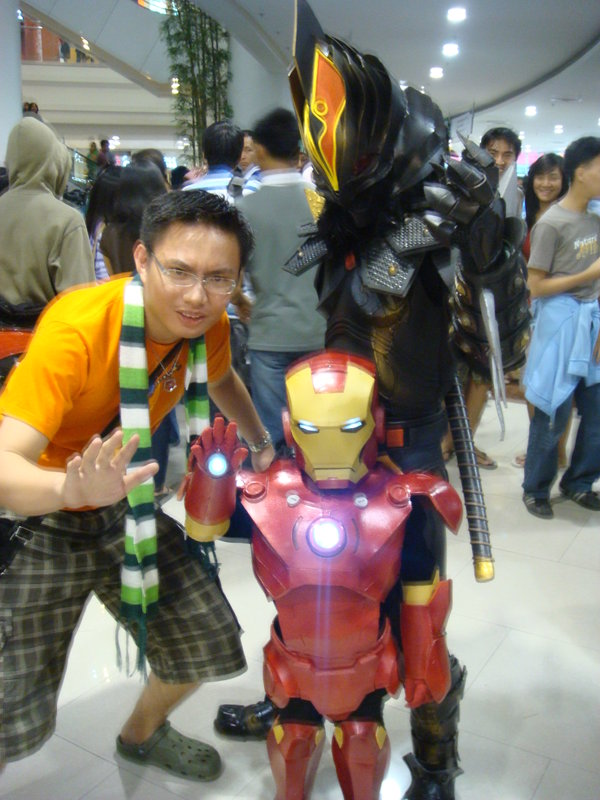 Who would've guessed Iron Man can be described as "adorable", right?