Posted by Markus on Dec 15th, 2008 |
2 responses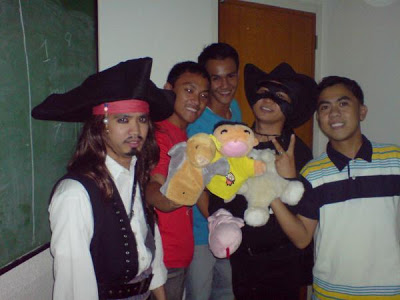 Recently attended a Kiddie-Party themed Christmas Party. I decided to be Jack Sparrow for fun since I've always been fascinated by that character. I have been wanting to do that since Halloween during a Hollywood-themed Party but that got canceled so I thought here's my chance.
In the middle of the program, we had a little puppet show and here is Captain Sparrow and the Puppetters (Ala Captain Planet and the Planeteers.. weheheh)
More pictures next time. In the meantime, L to R: Me, Elvin, Ezra, Rowel (Zorro) and Chester.
Related Posts
Leave a Reply