Posted by Markus on Aug 2nd, 2008 |
4 responses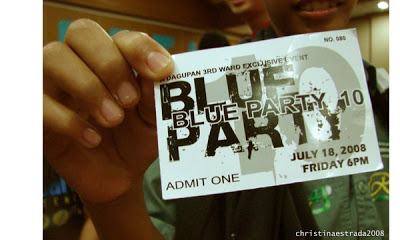 July 18
While some were scared because of the ridiculous earthquake predictions, here am I with my friends for Blue Party 10. All photos courtesy of photospill.multiply.com. Thanks, thanks Tina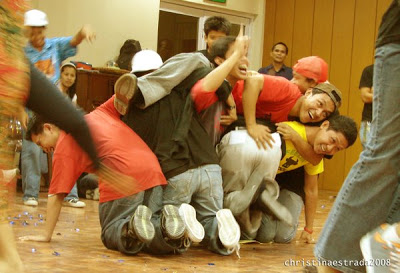 Magaling o Magulang?
This was during the early part of the program. We played the old Newspaper Dance but with a new twist. There were seven of us and not just the usual two players. It was fun, though. The deal was that players shouldn't step on the floor so we thought kneeling on the paper would be justifiable. Hahahaha.. It was really funny to watch the other groups try to fit everyone else's feet on the paper they have.
Moves and Stunts
I was amazed with this talented group of young men who presented a well-choreographed dance number, complete with stunts and all. I bet the rest of the audience can relate to my feelings, too

Wow!
These guys reunited after several years just for the party. That's Ryan on vocals and guitars, Cyril on bass and Ruslan on drums. Cool band. Cool selection of songs.
A new band is born! Naks… They don't have a name yet but they do have the potentials. Kitang and Jen share guitar duties, Bashang sings for the group and Kim there on the drum set.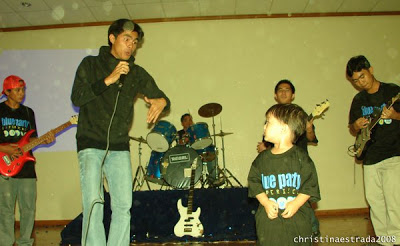 Bouncer or Stage Diver?
Colby shares the stage with Sundae Session here. Heheheh.. For sure, he was the youngest rocker among the crowd that night. Pao on rhythm guitars, Denden on the mic, me on the bass, Master Chester on lead guitars and Colby's Dad on the drums (Royz).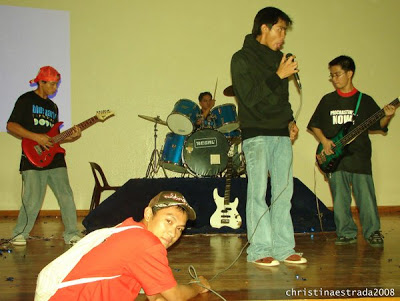 There Is Sunshine In The Soul
The gig wouldn't be complete without Elvin, of course - a close friend and our band manager at the same time.
Clean Up Time But Before That Let's…
Luci, Kim, Ruslan, Jen and Ryan.
The most appropriate soundtrack for this pic would naturally be that old Van Halen song.
Nuff said.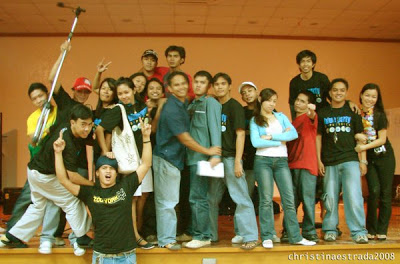 Farewell… For Now!

Tired but never too tired to strike some poses for some final pics. Heheheh.. See you next year for Blue Party 11.
And of course, the show could never go on without the MC's heheh.. That's Peter and MJ you got here - the true stars of the show!

Related Posts
Leave a Reply