Posted by Mark Rosario on Jul 14th, 2009 |
4 responses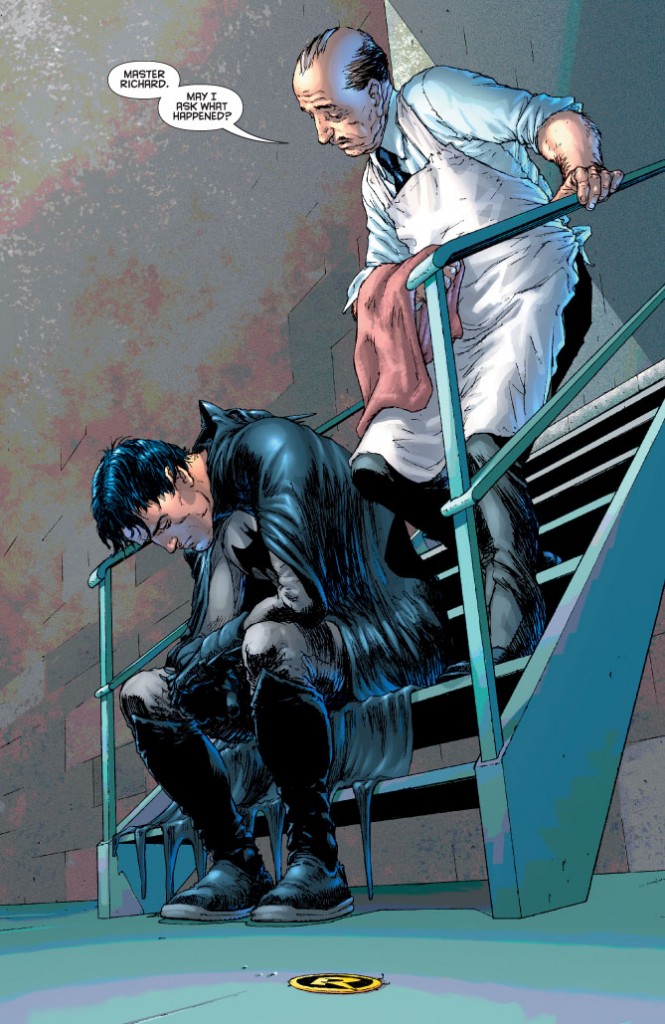 This is page 1 - and this preview could already be a major spoiler for you. Heheh..
Yes, this page alone gives a lot away what Batman and Robin #2 is all about. See Batman's facial expression there? Noticed Robin's badge on the floor? How about Alfred's worried yet reassuring look?.. Well, that's pretty much where this issue's plot revolves. As early as now, Dick Grayson is already feeling overwhelmed about the idea of donning the cowl and replacing his partner and mentor for many years.
Damian Wayne's behavior, on the other hand, isn't doing wonders for Dick's self esteem. He harshly tells him, "this pathetic impersonation of my father makes a mockery of his memory." Ouch! He was too hard-headed at one point that Dick asked Alfred "I was never this much of a brat when I was Robin, was I?", as we are all inclined to ask when dealing with those younger than us.
In addition, even the police - especially Commissioner Gordon - are sensing that this is already a different Dynamic Duo. Dick's a bit worried about that too and confides to Alfred that "Nobody believes I'm Batman."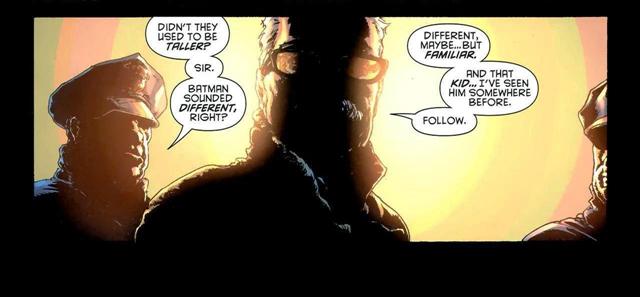 Good thing Alfred is there to offer wise words as always and he does a good job at it. "Think of Batman as a great role… and play it to suit your strengths," he says, speaking in a language he's sure the former acrobat-entertainer can relate to. "The spotlight's on you now… everyone's waiting for the hero to take the stage."
Now I won't go on spoiling the entire story for you any more now than I already did. Heheh.. But before moving on, let me just recommend that you look for the "fire extinguisher" scene. I'm sure you'll get a good chuckle out of that. I did.
Of course, its impossible for me to end this review (if you can call it that) without mentioning about the interior artworks of fan favorite Frank Quitely. That guy is definitely  the master of details and splash pages. The fight scenes are pure eye candy as well and it feels like he really made an effort to pay close attention to every panel. It would really be nice if he can be the regular artist for this series but it looks like he'll only be doing the cover for issue 4 and Pinoy artist Philip Tan (of Green Lantern and DC Final Crisis - Revelations fame) will be taking over. Knowing Philip's intense artstyle, that should be a welcome treat for readers of this series too.
Writer Grant Morrison is also amazing as usual. I'm loving the series and I can't wait for issue 3 next month. I really want to see what happens next and to read more about how Dick will deal with the villains, the police and even his own sidekick.
In the mean time, here's the cover and be sure to check this out at your local comic book stores and specialty shops.
Related Posts
Leave a Reply