Posted by Markus on Apr 6th, 2009 |
2 responses
It's been exactly a month since Francis Magalonapassed away but his memories still remain. I still listen to his music a lot and I can't fight the urge to write my own tribute for the man so here goes. I've decided to call this entry as "5 Things I Wont Forget About Francis" though I can still think of more reasons than 5. This guy has really impacted my life in a lot of ways so brace yourselves since this is going to be long. So please… dont get bored with me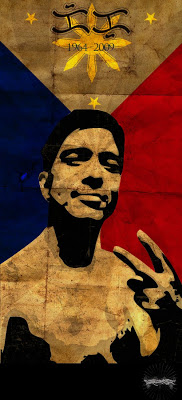 1. His music.
Though he was often referred to as the Master Rapper, Francis was much, muc h more than that. He was a very versatile musician who can comfortably use different elements of music in his songs. He's a real expert when it comes to crossing musical boundaries and he was highly respected for that. His album FreeMan, for example, has been well received by both the hiphop and rock community. He was always ahead of his time. He was more than a musician and a composer. As my friend
Carl Trono
used to say, "he was a visionary".
When our band, Sundae Session, started palying gigs back in 2005, we had three of his songs on our first ever setlist namely "Bahay Yugyugan", "Girl Be Mine" and "Kabataan Para Sa Kinabukasan". These 3 songs would later become staple songs we get to play each chance we get. Later on, we also added "Three Stars And A Sun" and "Meron Akong Ano".
I guess I could say that it was in his music that we found our common ground despite our various musical influences since Cindy listened to alternative, Wendel loved rap, Chester played classic rock guitar riffs well, Raymond was good at playing funky beats and I was once a metal bassist.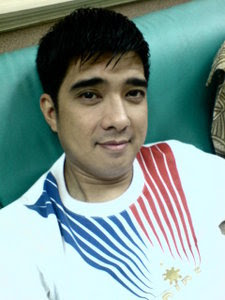 2. His patriotism. He was not simply someone who had the gift of rhymes but he was someone with a message - and that message was clear. H ew as the first in his generation who effectively fuse patriotism ito rap music andd fearlessly declared "Bilib ako sa kulay ako, Ako ay Pilipino" in the time when simply being 'westernized' could easily be considered cool. He proved that there was nothing wrong about loving our country. Again, in the words of Carl, "pinatunayan nyang hindi baduy maging makabayan." He would later express that same message through his trendy FMCC shirts and products.
He was an optimist and a realist at the same time. "Mahal nya ang bayan pero hindi sya kunsintidor". My own words this time. Some of his songs such as "Nilamon ng Sistema", "Halalan", "Bahala Na", "Baligtad Ang Mundo" plus many others were clear reminders about traditions and practices that we should do away with.
3. His youthfulness. I've always considered Francis as someone who never grew old. If you see him with his kids, he perfectly fits in and just looks like one of their barkadas. He was always young not just in appearance but he was always young at heart. He loved many things. He loved the youth. He believed in them. He was their ambassador.
I've always wanted to have an image like that and Francis was really one of my immedaite role models. I'm someone who never wants to grow old. As a youth leader in our church, I make it a point that those I lead will always look at me as someone approachable. I never wanted to project a mature, serious image although I could do that if the time and situation calls for it. Aside from that, I want to be the kind of person that the youth can comfortably confide, play, laugh or even simply hang around with.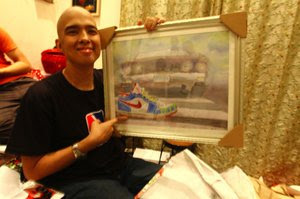 4. His family centered-life. Being a frequent visitor of his multiply account, I'm always amused and I find it touching at the same time to see alot of blog posts about his family. Whether it was about a painting his son made and gave to him or about how they, as a family spent their Chirstmas and New Year.
That's really something noteworthy. Actually he wasn't just a cool dad. He was a proud father - even a proud son of his father, Pancho Magalona, whom he had paid tribute to many years ago through his song "Old Man" (from the album FreeMan).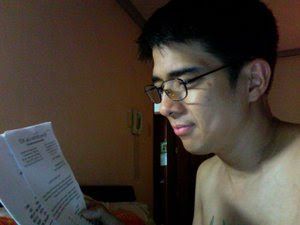 5. His positive attitude. I really can't help but be amazed with the strength that this man posseses. In one blog post, he wrote, "Today, September 25th, 2008 is the day I learned that Cancer isn't all about death. It's about LIFE. And today I celebrate and embrace that life." The day was his bone marrow extraction. He ended that day's blog entry with his typical humor and kakulitan by writing "Round 1 Score: Francis M.- 1, Cancer- 0″. What a cool guy. What a tough guy!
In addition to his own Multiply account, he also set up a new online account which he fondly called HappyBattle.net to chronicle his experiences and to inspire others, especially those who also have leaukemia, to move on with life. "LET GO AND LET GOD" as he says on the opening mesage.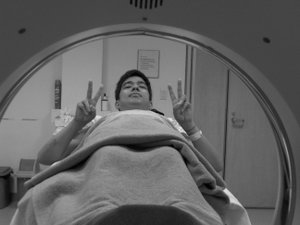 For his last entry before he passed away, he wrote "I look forward to the pain as I know my journey is on full speed ahead. I will not be bold to say that without asking a favor from you all. PLEASE PRAY for me as I undergo treatment. Your prayers, as always, have sustained me. And am sure the Lord will
listen to all our prayers. To His will I submit myself."
As most of us may have heard it from many commentaries, the Master Rapper has returned to his Master. He faced each minute of his difficulties with a smile on his face. Maybe that's why he called it a happy battle. It was indeed a happy battle and he was really a happy warrior - a warrior that has truly inspired many of us.
*Credits: Francis M Tribute artpiece courtesy of Jannus Llaneta. All other pictures grabbed from A Free Mind.