Posted by Markus on May 12th, 2008 |
no responses
3 recent Sundae Session gigs:
Gig#1
- May 7. Glenn's farewell party before his 2-year stint as a full-time missionary. He brought us there to their place right after our rehearsal and so we played for him and his friends. It was also fun. His friends were kind enough to clap. Heheh…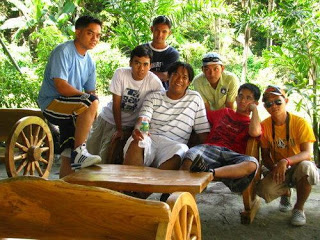 Gig#2
- May 8. Multi-Stake Youth Conference with Baguio and Dagupan Stakes. The event was held at Villa Jireh resort in Labrador, Pangasinan and we played during the party for 12-13 year olds. It was a long gig and we played from 7 pm to almost 10. We didn't have a fixed set list so we were more open for requests from the audience. This gig was a bit different from the others because everyone in the band were only in shirts, shorts and slippers as we played. Wendelle was even bare-footed while he sang. That's where the fun began, I think. Heheheh… "One of the best crowds ever," according to Wendelle and I couldn't help but agree. Most were singing along, dancing and were jumping up and down with us while we played. We really had fun playing for the youth and playing with the youth since some of them were courageous enough to accept our invitation for them to sing and even play guitars on stage.
Gig#3
- May 9. Early dinner jam at the MYC which was arranged by Elvin, our manager. Naks! He spoke with the leaders and agreed with them for us to play while everyone was having their dinner. We played from 5 pm to 6:30 pm. It was a chance to give others a taste of what happened last night. But no! No jumping-up-and-down since everyone was eating.
Related Posts
Leave a Reply