Posted by Markus on Apr 4th, 2008 |
no responses
I have been living in a cave for sometime and haven't been going out much for the past few weeks. It's a good thing that Wendelle came here last night for a sleep over and reminded me about our gig today – Friday!
Until he came, I didn't realize that Friday was fast approaching. This Friday was a special one and wasn't like just any other since for the first time after a long period of hiatus, our band – Sundae Session – is set to play a gig at a small gathering with friends again.
So I finally went out today after my work at home.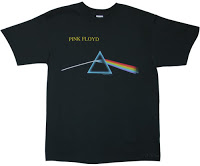 I was so much in a rush that I just settled wearing cargo shorts and a black Pink Floyd shirt because I failed to iron my blue shirt and my favorite pair of jeans. I then rode a jeepney so I could get to the venue quick and noticed in the mirror that I haven't shaved for several days ("Oh, great! I'm a short-haired hermit now!.. It's just a proof that I have really been living in a cave").
At the gig, we just played three cover songs. The first one was Protein Shake's rendition of "Macho Gwapito" (a Rico J. Puno classic) wherein I played guitar and Chester took over the bass. Why? Because we haven't had a practice and Chester didn't even know the chords of the songs. Hahah!.. But Chester did great and managed to get around by concentrating on chords near F#.
Our second song was the crowd-favorite "Beep, Beep, Beep, Beep" by the Juan Dela Cruz band. This is something we have played before so I passed the guitar and grabbed the bass instead. That's where the fun started since Chester (or "Master Chester" as some people at Quezon City refer to him) blowed us all away with his killer guitar solos again. Then came the last song, the band-favorite "Bahay Yugyugan" (by Francis M). For me, these last two songs were the most enjoyable to play since we turned it into longer, improvised versions because we jammed a lot during the instrumentals.
Personally, I really missed sharing the stage with Wendelle (vocals), Chester (guitars), and Raymond (drums). It's really great to jam with these, my closest friends. But still, I'm open to the reality that we can't do this as often as before since we are all busy with our respective jobs now.
But of course, all in all, we enjoyed our "comeback" gig and I guess the audience enjoyed it, too.. Mind you, we have such good friends that we can play any song and even mess up but still be assured that we would be appreciated and cheered on! Hahahah!…
The short time I spent outside my cave was worth it, after all.
Related Posts
Leave a Reply