Posted by Markus on May 31st, 2008 |
2 responses
I recently dropped by the local BookSale store to browse books but found
Forge comics # 11
instead. It was an old issue released way back 2003 by Cross Gen comics and it was a trade paper back edition. It contained 7 stories and it had 192 full color pages. The cover price indicated that it was originally priced US $7.95 (around Php 318) but because it was on sale, they sold it for only Php 40.00 (around US $ 1). So although I wasn't familiar with any of the characters, I decided to give it a chance. After all, it didn't cost much. Here's what i think about it:
The Path
- I think the ancient-Japanese setting looks really awesome. My only problem with it was the long conversations between Wulf and Aiko. It's not that the conversations didn't make sense - in fact, it mostly did (i.e. Aiko says "Your heart overrules your head," to which Wulf simply replies "It should"). However, I just think it's very unrealistic to spend a lot of time talking when you are trying to break inside the enemy's castle to rescue someone. Silence will really be helpful in situations like that.

Negation – The battleships look like they came from a Star Wars set but that wasn't a big deal for me. What space-related sci-fi story
hasn't been influenced by Star Wars anyway? At first, I thought
Obregon Kaine (sounds Obi-Wan, huh?) was a cool character. He's the leader of the team and he's a tough guy who doesn't want to kill, even his enemies. At one point, he even argued with one of his team members about sparing the life of Komptin and his crew (who were sleeping, at the time). That was really an interesting concept for me – until I got to the last pages of the story. As his team entered the enemies headquarters (using Komptin's ship), he instructed everyone to leave him alone and he killed Charon by blowing him till-kingdom-come. That was the part where I got confused. I don't know. Maybe the answer to this is in the previous or next chapters of the story. I'd like to know. All in all though, I think Negation rocks. It really feels cinematic.
Crux
- Of all the stories in this issue, this is the one I didn't like the most. Its just Thraxis and Aristophanes trying to beat the hell out of each other - nothing more, nothing less. I got so bored with reading it that I didn't bother reading it the second time.
Meridian
- This one has a very political storyline. It deals about the anomalies that take place along the process of replacing someone in a leadership position in the government. Quite interesting, too.

Sojou
rn
- My personal favorite. Though it obviously looks and feels a lot like Lord of the Rings, I think I can say that the story is
well-crafted enough to stand on its own. The winged-warriors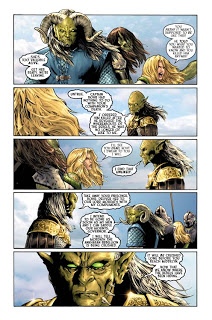 (Ankharans) looked really cool, too. It's a welcome addition to this Tolkien-like universe. On the downside, I just cant help but chuckle when Captain Bohr, a monster-looking villain, instructed two of his armies to pull Arwyn away from the edge of the cliff so she wouldn't pitch herself after her "boyfriend". I think the word is just too modern for a setting like that. The writer should have come up with a better term than that. In Governor Koht's own words, I just think "I find that unlikely." Another thing, I think the scene where Arwyn was rescued by the female Ankharans happened way too fast. The trolls didn't even get the chance to shoot one arrow or throw a single spear. This was another "unlikely" thing since this was an army and there were only three rescuers. All in all though, I'd still love to read more about this story.
Route 666

– For obvious reasons, yes, I didn't like the title. However, this story had me reading at the edge of my seat, so to speak. This action-horror story is so action-packed that it doesn't have any room for dull moments. This one has several interesting characters. Aside from the ability to speak with spirits, Cassie Starkweather can also spot monsters who are disguised as health workers. A serial killer named Berkely (a.k.a. Railstripper) accompanies her in her "cause" in finding the monsters and putting them to an end, simply to satisfy his urge to kill people. Gunnar Melchior, on the other hand, is the N.B.I. agent who handles the case. He is also the son of one of the victims. The writer and artists involved did well in blending mystery, suspense, action, horror, and detective elements. In a way, the story feels a bit like X-Files with a blend of CSI. I finished reading both chapters (6 and 7) wanting to read more. I wish I could find other copies of Forge comics because of this one, too.

Related Posts
Leave a Reply