Posted by Markus on Apr 14th, 2009 |
16 responses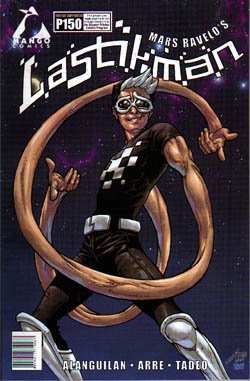 While most, if not all, young people today only know Lastikman either from the Vic Sotto flick or the Vhong Navarro TV series, it is refreshing to get the chance to see the character again in the actual format where he was first introduced - that of a comicbook.
I'm just glad I was finally able to get a copy of this special one-shot Lastikman comicbook released by Mango Comics way back 2005. Mango really deserves a pat on the back for taking the initiative to introduce (or, more appropriately, to reintroduce) Lastikman to new and old comics readers.
Taking a look at the credits, those familiar with the local komiks industry will surely recognize the names of 3 top caliber artists who worked together for this namely famed "Superman: Birthright" inker, Gerry Alanguilan (who wrote the story for this), artist Arnold Arre (whose recent work "Martial Law Babies" I have yet to check) and current "X-Men: Worlds Apart" inker Edgar Tadeo (who handled the coloring duties).
Thumbing through the pages and scanning it randomly, it's really easy to tell that this title, production-wise, is an excellent example of what Fillipino creators could come up with provided that they get adequate support from their publisher. The pages are very impressive. To begin with, Arnold Arre's artworks is just perfect for the story. His cartoony yet very detailed artsyle is just pure eye candy. It goes along very well with the script that I can't help but chuckle several times, not only because of the dialogues but also because of the drawings. Check out Toto on page 50, panel 2 for an example of what I'm saying here. In addition, the action scenes are superb too.
Gerry Alanguilan, on the other hand, proves to us his versatility as a writer here. Reading Lastikman comics, one would never get any clues that this was the same guy who wrote "Wasted" (yes, that gritty, little black book). In this book, his story-telling is smooth, effective and, overall, genuinely humorous. I guess Gerry has really honed his craft of being hilarious in his previous works (Crest Hut Butt Shop, Johnny Balbona among others). My favorite scene would definitely be the part that deals with a grocery store, a hostage taker and a Jansport backpack. Thats just too funny

As for Edgar Tadeo's colors, well, they're cool! It's really clear that he knows what to do to take Arnold's artwork to a higher level. His work enhances the texture without overshadowing the lineart. He really did well for this.
All in all, I find Lastikman comics as a feel-good comicbook that can surely be enjoyed by any comics reader, whether young or young at heart. For me, this title is not just worth reading - it is worth owning. Kudos to Gerry, Arnold, Edgar and Mango comics for coming up with a great title that deserves a spot in every comic collector's library. Here's hoping that they come back for more

Related Posts
Leave a Reply