Posted by Markus on May 9th, 2009 |
14 responses
For my second "Panels and Pages" interview, I've chosen to feature Claw creator, Myke Guisinga. As some might know, Myke is not just an awesome artist but also a good friend of mine. He's one of the first guys I've met (at least online, at the time) even long before we all got together for the Bayan Knights project. Here goes several questions from me and several answers from him 

Mark Rosario (MR): What got you into reading comics?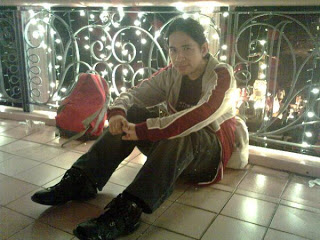 Myke Guisinga (MG): The exact year could be 1978, I was in kindergarten. My Dad and I would go out every Friday morning to get me a copy of "Filipino Funny Comics". And then I realized that I love to draw the characters inside those pages. Later, I saw the old Marvel cartoons that featured Captain America, Thor, Iron-Man, Hulk and Sub Mariner on TV. My Dad again (Yep! He is the culprit) bought me reprints of Marvel and DC comics being distributed by National Book Store (sa C.O.D. Cubao pa niya binibili). That was the turning point. My fave character back then was HAWKEYE (and I pronounced it as "How-key-ye"




MR: What were your first comic book projects?
MG: I started doing comic strips back then. I was in 4th year high-school. I made two titles — "Bone Daddy and the Fright Squads" was my version of the Monster Squad on TV back in the early 80's and "Biker Style" showed my affection for BMX bicycle riding.



MR: How did you get started with Claw?
MG: CLAW was created after watching the TV series "Mga Alagad ni Kalantiyaw". Claw used three pieces of karit blades tied to his right hand. And after 10 years of existence he evolved into something so mysterious to the reading public.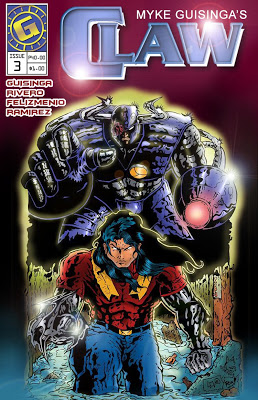 MR: Claw #3's cover just looks so awesome. Can you give us a little background about this particular issue?
MG: Issue #3 gives you a glimpse into his past. I released half of the story through a flip-book with Boy-Ipis/Claw during the Komikon last November 2008. The narration was very different from the first two books because it was a little bit darker and more mature. His transformation as an anti-hero will start here.
MR: Who are your major influences as an artist?
MG: Everybody loves Whilce Portacio. I also love Nick Manabat's work on Cybernary. But it was Jae Lee, Mike Mignola and Mike McKone who were my references back then and I LOVE director Tim Burton's work, his dark, high-contrast approach was a major influence on my works back then.
MR: I've noticed you prefer blue-lead pencils instead of the others. Any reasons for that?
MG: Hmmm…. I was using black ordinary lead for my pencils before. But I tend to be so messy with it because my palm sweat too much that causes my work to look uncool (ugly term). Blue lead gives me a cleaner look with my pencil work or…maybe just a psychological thing.
MR: As a writer, where do you get your ideas about your stories?
MG: For writing, I grew up loving my hometown, Navotas. There are a lot of stories there that I can incorporate into "Claw." As I grew older and saw the place that I cared about and loved so much starting to look bad not just in my very eyes but also in the eyes of those from nearby cities, it hurt me. And through this book, I think I am sharing my personal thoughts and ideas that may or may not help my town to become much better than it is today.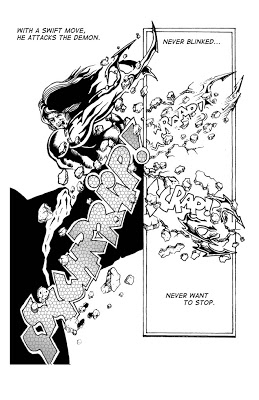 MR: What's the best part of being a comics creator?
MG: You could kick someone else's ass in your own book? Kidding. Everyone is an artist. Everyone has a vision to make things better. Funnier, scarier, In-love 24/7. You can create a world no one might understand or love or vise-versa but the thing is that you are in full control of what you want to do while having fun. And being responsible.
MR: Any piece of advice you could give for aspiring artists out there?
MG: As an artist. Do whatever you want. Follow your heart and be happy with what you are doing. Just understand the basic concept of art (line, shapes and color) and you'll be alright. As for aspiring comic book artists, I am not a PRO, so ask someone else. I just draw because it makes me feel better. 
MR: Okay, if you say so! Hahah! How about some parting words then?
MG: Thanks Markus for this! You were one of the people who supported me in my darkest days in comics. Salamat Bro! Also want to thank Christine "Robin" Rivero for the love and inspiration that she has given me. Thanks to John Becaro, walang iwanan pre. To Jonas Diego, for being such a good friend. Gerry Alanguilan for re-introducing me to the world of KOMIKS. To Gilbert Monsanto, for bringing CLAW to the mainstream. To God, Thank you for everything.
MR: You are always welcome, Myke.
Related Posts
Leave a Reply