Posted by Markus on Mar 11th, 2009 |
6 responses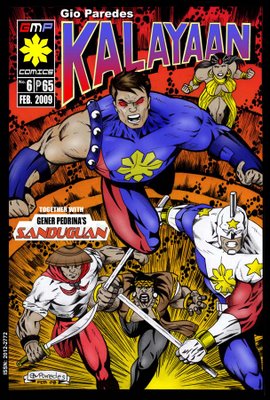 This is a landmark issue. As can be seen on the cover, Gio Paredes' Kalayaan comics #6 is a crossover with Gener Pedrina's iconic Pinoy superhero team, Sanduguan. Now dont make the mistake of thinking that this is just another superhero crossover story just for the sake of doing a crossover. The plot really shows Kalayaan's need of help from other heroes because he alone cant take his villain down this time around. I really like the story and, like Kalayaan #4 did, it made me think for several days.
For example, I thought a lot about Kalayaan's motives. When Kalayaan went berserk and attacked Malikmata, I thougt a alot about the real reasons why he did that. Was it really becasue of what the villain did to him or was it more becasue of what the villain almost did to Diwata? Taking that as my first clue and taking their "mental link" (page 11) as my secod, I went "hhhmmm…" Could this possibly be a 'loveteam' in the future? Has our hero finally found the girl who would accept him despite his "condition"(Kalayaan 4)? I wonder

With regards to the art department, Gio, as always, is showing a lot of improvement. Personally, I find it an exhilarating experience to be a witness of his growth both as a writer and as an artist at the same time. Checking out earlier issues of his comics would show that he's somehow having some challenge when it comes to drawing girls. This issue, however, simply proves that the guy has been doing a lot of practice lately. I really love the way he draws Diwata (like on page 8-panel 3), especially how he draws her hair.
On the other hand, Gener Pedrina does the artworks for the other half of the story (pages 11-20). Of course, the transition from Gio to Gener's arstyle was pretty obvious, even without looking at the credits but mind you! As different as their styles may be, it wasn't distracting in any way. Its a welcome treat for readers actually. Page 13, for example, was a very dynamic page that it became one of those moments when I wished the comic book was available in full colors (who knows in the future, right?) Overall, I'm sure followers of Kalayaan comics will enjoy reading this particular issue.
Now you got to pat Gio on the back for his consistency and perseverance. Way back issue #1, he shared with readers his desire of releasing a new issue every four months. The guy's now on his 6th issue and it looks like Gio's constantly achieving that goal, one issue at a time, sometimes even finishing an issue earlier than the intended schedule. As a reader, it gives you a good feeling knowing that you can count on him to release a new issue on a regular basis. So when he promises more action for the next issue, you can just be sure he'll be back after 4 months. Really.
I won't be surprised at all if, in due time, Kalayaan might indeed become the country's longest running indie comics. For that reason – and for many, many others – Gio Paredes deserves being praised.
Related Posts
Leave a Reply